NZ KiwiBerry are rich in antioxidants
KiwiBerry are small - in the 5 - 20 gram range, with smooth hairless edible skins, and shapes varying from round to elongated. One of the attractions of KiwiBerry is that they, like grapes, are a single mouthful and to increase the size above say 20 grams eliminates this desirable characteristic.
There are three main cultivars grown in New Zealand, Takaka Green, Hortgem Tahi and Marju Red. There are also three NZ Institute for Plant and Food Research Ltd selections with Plant Variety Rights (PVR) under evaluation. It is hoped that with the new selections it may be possible to extend the harvest season and the shelf life.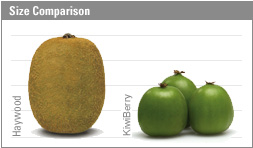 Retailer Info
New varieties have been developed through breeding programmes run by private growers and NZ Institute for Plant and Food Research Ltd.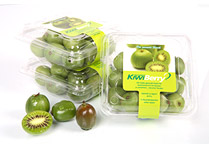 NZ KiwiBerry Growers Inc.
Neil McLoughlin
Executive Officer (Interim)
M: 027 403 6647
PO Box 484
Te Puke
Bay of Plenty 3153
New Zealand
Email Us +